Clark Alonzo Suggs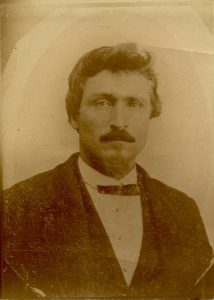 Clark Alonzo Suggs was born November 12th, 1841 near Cuthbert , Randolph County, Georgia. He was one of five known children of John Sellers Suggs and Martha A. Reynolds. According to Clark's daughter, Olive, his thumb on his right hand was cut off by another child who was playing with a hatchet. This occurred when he was only two years old. Later in life, he wrote with the pen between his first and second fingers, and he had a very good readable penmanship. It is unknown how the lack of his right thumb later affected his ability to shoot during the War of the Rebellion.
In 1857, at the age of 16, Clark moved with his parents to Santa Rosa County, Blackwater Bay just south of Milton, in the Florida panhandle. In 1862 he moved near Enterprise in Newton County, Mississippi. On September 25th, 1862 at the age of 20, Clark was recruited by Lieutenant Miller from a conscript camp at Enterprise, Mississippi. He was enlisted as a private in Company A, 14th Regiment of the Mississippi Infantry headed by Captain Doss. For the next three years, Clark would participate in one of the deadliest conflicts on American soil, the War of the Rebellion – better known as the Civil War.
A little over two months later, on December 3rd, 1862, he was captured in Oxford, Mississippi. From Oxford, he was transferred to the military prison in Alton, Illinois and received on January 10th, 1863. This military prison was previously the state penitentiary. It had high brick walls and iron-barred cell blocks. In the three and a half years it operated during the war, Alton only lost 114 prisoners of the approximate 11,764 that passed through its gates. During the winter immediately following Clark's imprisonment at Alton, a smallpox epidemic flared which killed as many as a dozen southern prisoners a day. The epidemic was likely brought on by severe overcrowding and bad sanitation. Soon after arriving, Clark caught smallpox and was admitted into the prison hospital on February 7th, 1863. He was admitted for "varioloid" according to his service records. Varioloid came from the Latin word varius, meaning "stained," or from varus, meaning "mark on the skin" which is probably how it came to be used to describe smallpox. Alton citizens demanded that the sick be removed as they posed a health danger. As such, they were taken to a deserted island in the middle of the Mississippi River across from the prison, which soon became known as "smallpox island". Although records don't specifically indicate that Clark was brought to this island, it is almost a given since the timeframe of the epidemic matches the dates Clark was admitted to the hospital. A little over three months after being admitted, Clark was released from the hospital on May 12th, 1863, presumably one of the lucky ones as literature suggests a 20% to 60% mortality rate with rates near 100% for some types of smallpox. Edward Jenner, who discovered a vaccine for smallpox, once called it the most dreadful scourge of the human species. Clark must have been extremely strong to have survived smallpox.
Unfortunately, Clark was again admitted into the prison hospital three days later – this time for colic. The records do not specify whether he had biliary colic (gallstones) or renal colic (kidney stones). He was released from the hospital three days later on May 18th, 1863. The following month, on June 12th, 1863, Clark, now 21 years old, was exchanged and went back to his regiment under General Joe Johnson. His stay in prison slightly exceeded six months, most of which was spent in the hospital. Unfortunately, Clark would be recaptured and subsequently sent to Camp Douglas, located in Chicago, Illinois.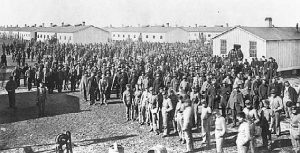 After rejoining his regiment, Clark apparently participated in various battles. A little over a year later on July 5th, 1864, while fighting near Marietta Georgia, somewhere along the Chattahoochee River, Clark was captured by forces under Major General W.T. Sherman. He was then brought to Nashville, Tennessee and subsequently transferred to a military prison in Louisville, Kentucky and received on July 14th, 1864. On July 17th, 1864 Clark was transferred to Camp Douglas in Chicago, Illinois. Sadly, he was to remain there until the end of the war, eight months later.
In November of 1864, Clark applied for the oath of allegiance. He claimed to have been loyal, having been conscripted into the rebel army. He deserted to avail himself of the amnesty proclamation. On April 2nd, 1865, Clark, desiring to travel in the west until things quieted down and having no money, volunteered for service in the 6th United States Volunteer Infantry. Within a few days, the War of the Rebellion was officially over. General Robert E. Lee surrendered at Appomattox, Virginia on April 4th, 1865. For the next year or so, Clark fought Indians on the plains and was honorably discharged at Fort Kearney, Nebraska in the fall of 1866. He then came to Union County, Arkansas, where his family had moved the previous year. He joined them on a farm in what is known as the Murphy Settlement.
He later moved near Champagnolle, Union County, Arkansas and occupied his time in farming, and occasionally teaching school or clerking in a dry goods store, until he was employed to take charge of the warehouse at Champagnolle. Clark took over the warehouses as a shipping clerk. He was responsible for the thousands of bales of cotton which were brought to this part of the country for shipment to New Orleans, and for the freight which came to supply the whole county (there were no railroads in the county then). Here he gained a high reputation as a businessman of scrupulous integrity and superior qualifications.
As his daughter Olive tells the story, he at one point stood on the deck of a boat at Champagnolle talking to the captain. Two young ladies stood near on the shore. "Captain, who are the young ladies?" Clark asked. The captain replied "The one on the right is Miss Mary Langford, the daughter of J.R. Langford, who owns the store and warehouses of this landing; the other is the daughter of Dr. Harrison."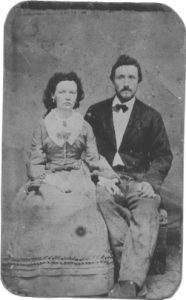 "Captain", Clark said, "I am going to marry Miss Langford. Isn't she a beauty?" and the Captain laughingly said "Good luck to you Sir."
But Mary was only 15, and Clark was 25, so for the next few years he worked in a General Merchandise store at Blanchard Springs which was twenty miles south. The store was owned by Billie Owen.
In 1868, Clark joined the Missionary Baptist Church at Union and was baptized by Elder George Prime.
In the meantime Mary went to New Orleans and spent two winters attending a young ladies' school but boarding with friends of the family, the Petersons.
In New Orleans, she learned to do fine hand sewing, to play the piano, to have her hair done by a 'French' hairdresser, to correct her English, to compose beautiful letters, to read the best in literature, and to write a fine Spencerian hand. She absorbed quickly and her mind was alert.
The next time Clark saw Mary, she was irresistible. They were at a party, and he pressed his suit, but Mary was engaged to John Staples. This did not deter Clark, for he insisted that she break her engagement and marry him, which she did. They were engaged just six weeks. Her former suitor consoled himself by marrying Mary's aunt, Amanda Ward and very happily too. Clark and Mary were married on November 19th, 1871 – a real love match. The ceremony between Clark Alonza Suggs and Mary Louise Langford was performed by the Reverand J.G. McCain at Champagnolle, Union County, Arkansas.
Mary Louise Suggs (born Langford) was a beautiful woman, 5 ft, 4 in. tall with golden brown, curly hair – turning darker as she grew older. She had gray eyes and very small, lovely hands. She weighed 115 lbs. until she gained weight in middle life. She had a turned up nose. She was only 33 when left a widow, but she scorned the idea of marrying again. She had just one love, and as such he remained in her heart.
Mary was a refined woman, loving good literature and encouraging her children to high aims. She had a well-developed sense of humor. She was well poised and had a keen insight into human nature. She was a good judge of character and could instinctively detect deception. She was informed on world affairs, although she lived a very quiet life with her family and friends.
She became interested in Christian Science in 1897 and it gave her great peace of mind and joy of living. She searched the Scriptures daily. As Tennyson said "Happy he with such a mother's faith in womankind beats with his blood, and trust in all things high comes easy to him, and though he trip and fall, he shall not blind his soul with clay".
Clark was also by nature religious, and if he had received the logical training, he probably would have been a minister of the Gospel. At this point, Clark was still a member of the Missionary Baptist Church. He lived as a consistent member of this church until 1879, when he was granted a letter of dismissal to help organize a church at Champagnolle. Clark, Bill Griffin, and John Armer organized the Baptist Church at Champagnolle. In 1881 he was chosen Deacon and served until his death. He was loved and honored as such by all the members.
The children that blessed the marriage of Clark and Mary Suggs were:
(1) Robert Staunton born August 23, 1875. He married Faye Prettyman on Nov. 26, 1908. He died of cancer on Jan 4, 1955 – buried in Fort Smith, Arkansas.
(2) Olive Langford was born on January 13, 1877. She married Walter Langford Goodwin May 15, 1901.
(3) Aza Julia born in August of 1880. She died an infant in June of 1881.
(4) Martha (Pattie) Corona was born March 15, 1883. She married twice but left no children. Her marriages were to (a) Seth B. Bates – Sep 1913 and (b) Don L. Cross – 1940. She died of cancer on November 4, 1947 at Bentonville, Arkansas and is buried there.
Clark Alonza Suggs was a man of sterling character and great personal charm. He was gentle and sweet. He stood 5 ft, 10 ½ inches and weighed 180 lbs., with sturdy limbs, a well-developed body, and a large head. He had brown hair, fair skin, and blue eyes.
The War had interfered with his education, but he had such a desire for one that he ordered books and studied at night. He read subjects such as the classics, poetry, history, biography, and book keeping. One winter, he studied every play of Shakespeare, adding his marginal notes and comments.
His English was always correct though a little stilted, as was the custom then. He addressed his associates as "Sir", and had the manners of a gentleman. People loved him because he loved them.
In the early spring of 1884, Clark and Mary's house and nearly all of their furniture burned, with no insurance. He remarked that he was glad he had no insurance, as he would rather lose it all than be accused of having burned it for the insurance money, as people so often did.
In the summer of the same year (though his daughter Olive suggests the year 1883, rather than 1884), he was stricken down with cancer in the form of a large carbuncle on his back between the shoulders. He was bedridden for months and apparently had the carbuncle removed. Thereafter he was afflicted with something like rheumatism in his hip, though probably the cancer had returned and localized there. After suffering with it for some time he was persuaded to go to Hot Springs, Arkansas. His diary kept during his stay there ???? January and February 1885 is a pathetic record of sleepless nights and suffering days, but also of an undaunted will to get up and go. Mention is made of acute attacks and sometimes a little morphia (??). Eventually, he began to improve.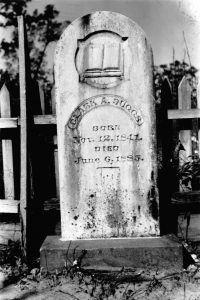 In March of 1885, Clark was called back to Champagnolle on account of the serious illness of his father-in-law, J.R. Langford. Clark came home on crutches to help, but James Riley died on March 11th, 1885 before he arrived. Clark gave what assistance he could to the bereaved family in straightening up the business affairs and helping to settle the estate. Soon after, he was again stricken with illness and returned to Hot Springs on April 26th, 1885.
This time his family accompanied him to Marris House on Central Ave. in Hot Springs, though he continued to get worse. Soon after reaching Hot Springs, Clark's father John Sellers Suggs was called to his bedside, who together with the family and the aid of good physicians, did all that could be done to relieve his sufferings. During his last moments, on being questioned by his father concerning his future prospects, Clark answered that all was bright and that though he had not enjoyed religion all the time as some folks seem to enjoy it, he now realized its joys in full, and had no doubts or fears to mar the brightness of his hopes for heaven. Also during that time, Clark told his wife Mary and father John that he had a little business matter he wished to talk with them about. Not that he wanted to alarm them, but as he did not know what would happen, he wanted to tell them, in the event of his death, where they would find a coffin, which he described and told them what it would cost. He wished them to purchase the coffin, and get an undertaker to assist them in fixing his body for immediate transportation to Champagnolle, where he wished to be laid to rest between the graves of his mother Martha Suggs (born Reynolds) and his little babe (presumably this is Julia).
Many friends at home were praying for his recovery, but God willed otherwise, and his redeemed spirit was called home to rest eternal on Saturday morning at 8:20am on June 6th, 1885. At the relatively young age of 43, Clark had breathed his last quietly and peacefully. He had died of cancer, an ailment for which medical science at that present day had found no cure.
Obedient to his request his loved ones reached home with his remains on the evening of the next day, and laid him to rest in the spot he had designated. On the morning of June 8th, 1885, a number of weeping relatives and friends met at his grave to pay the last tribute of respect in a funeral service conducted by Elder J.G. McCain. It seems appropriate that the same Reverend that married Clark and Mary said the prayer at his burial. As he apparently knew Clark, he used Clark's favorite hymn on the occasion. "Asleep in Jesus, blessed sleep, from which one ever wake to weep". Clark is buried at Champagnolle Cemetery, Union Co, Arkansas. His family honored him by putting the title of his favorite hymn on the tombstone : "Asleep in Jesus".
His wife, Mary Langford Suggs in company with her three children and her brother – family moved to Bentonville, Benton County, Arkansas in June of 1888. Here she reared her children, sending all of them to college.